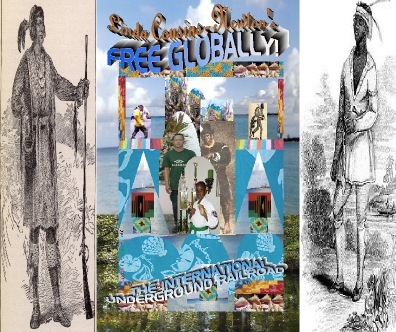 NOW RELEASED AS AN E-BOOK
AND IN A LIMITED RUN PRINT EDITION
FREE
GLO
BAL
LY
!
*uniquely details the expansion of the underground railroad to freedom to INTERNATIONAL terrain.
*penned in a warm, storytelling fashion by long-time "ancestral storyteller", historical researcher, and award-winning educator/travel journalist, Linda Cousins-Newton.
*one of the rare historical offerings by an African-American woman historian who is a member of a Black Seminole-descended family.
*weaves via journal entries the author's history and spiritual/cultural connections with the love warriors and freedom sites she lifts.
*renders a listing of historical influences of "scholarly storytellers" and the specific qualities of the works that made them historically appealing to the author.
*shares a personal account of the first Underground Railroad Conference in Nassau, Bahamas which focused on the links of The Bahamas to African-American freedomists.
*among the slender but desirable list of Black history tomes available in both a print edition and as an e-book offering on Amazon, I-Tunes, Barnes & Noble, and Sony Reader.
*Cover artwork designed and digitally created by the historian from her work, THE BLACK SEMINOLES - Cross-Cultural, Cross-Century Connections (art on tile), from her ADDA (Ancestral Diaspora Digital Arts) Collection. View a brief tidbit of the historian's background at the About Me page.
Letter to Author regarding FREE GLOBALLY!
"Your book is amazing! What an excellent Storyteller you are. I love the Southern favor. It so reminds me of my family in Carolina. God has truly blessed you with many talents. This story of a people's journey from place to place in search of freedom brings to my mind the fact that African Americans have always been World Citizens. As stated in the Bahá'í Scriptures, "The earth is but one country and mankind its citizens", and as foretold in all the sacred scriptures of the past, now is the time for humanity to live in unity". Your indepth research yet occasional threads of humor in weaving this story of determination and nobility make for an enjoyable, educational read of the struggle, fortitude, love and hope of a mighty people. Yes, we are indeed Free Globally."
--Clydeloris Herring, Founder, In Harmony Book Club - Mt. Vernon, New York
(Webmaster Note: Besides being an avid book lover and book club founder, Clyde ("Nomsa") Herring is a talented visual artist and a Bahá'í vocalist with a voice like an angel. Her vibration-lifting cd, THIS IS FAITH, is available on I-Tunes.)
Hear the ESTELUSTEE JOURNAL - BLACK SEMINOLE THOUGHT Podcast discussing the Seminole cultural collaborations and freedom coalitions, the ancestral links of The Bahamas' Junkanoo and the contributions of dedicated historians on the Seminoles: the late Isa Hamm Bryant, William Loren Katz, Dr. Rosalyn Howard, Rev. Bertram Newton, and Shirley Boteler Mock. The podcast relates also the literary birthing of FREE GLOBALLY
To purchase and/or view a sample of Cousins-Newton's FREE GLOBALLY! - The International Underground Railroad e-book, click on this link: Amazon Just place Linda Cousins-Newton in the search box there or at I-Tunes, Barnes & Noble or the Sony reader e-book sites. Be enjoyably Educated, Elevated, and Motivated.
THE REVISED MULTIMEDIA EDITION OF THE FREE GLOBALLY! E-BOOK CAN NOW BE PURCHASED AT A DISCOUNT AS A PDF FILE ($7.99) DIRECT FROM THE PUBLISHER.
PDF e-book of FREE GLOBALLY! - The International Underground Railroad
(To contact Ancestral ProMotions or the historian, e-mail us at the link below):
My Posterous Blog on the Estelustees (Black Seminoles)
copyright (c) Ancestral ProMotions 2011